Media Recovery
Wet Audio & Video Tapes can be saved - Broken, dirty, moldy, and damage recovery.
We have recovered tapes that have been buried in dirt for years after Hurricane Katrina and many other disasters.
If tapes are wet - leave them wet. If dry - leave them dry.
Number the tapes in the order you want them to play.
Using the tape numbers, make an index with number and titles and keep a copy.
Seal in zip-lock bags and store in a cool place (refrigerator) to prevent mold.
Print our Shipping Label from the website and pack very well.
Send us an email through our website GreentreeAV.com so we can confirm arrival.
What kinds of damaged media can be repaired?
Damaged media can be recovered including wrinkled, creased, 'sticky', broken magnetic tapes, wet, moldy open reel and cassette tapes. Repairs include mechanical problems including jammed spindles, broken case, snapped tape, missing parts, and broken audio records.
Prices:
Recover damaged audio or video tape to file: $85 per tape ($30 blank tape charge).
Most repairs (wrinkled, broken, etc) are less than $25. Your approval is required if it is more.
USB Flash Thumb drive: $10 most drives.
CD/DVD labeled with case: $10 each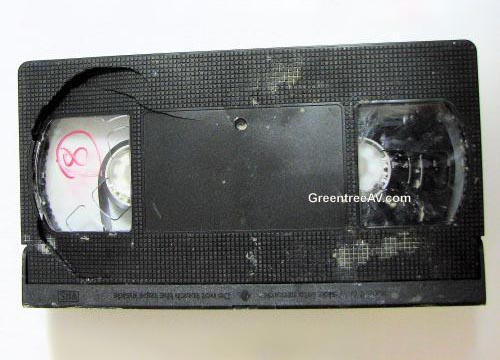 Water damaged and broken VHS video tapes can have mold if not kept cool. This was recovered to h264.mp4 video files.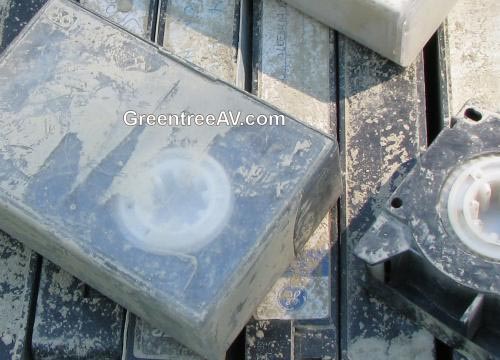 These VHS-C camcorder tapes were in a flood and are water damaged, dirty, wet, moldy. This tape was saved!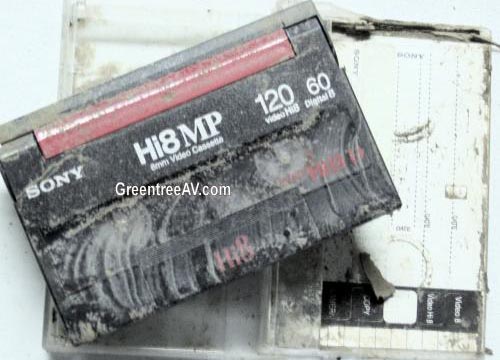 Hi8 video tape recovered from water, mold, and mud. Basement flooding. Ones such as this can be cleaned and transferred to DVD or mp4 video file.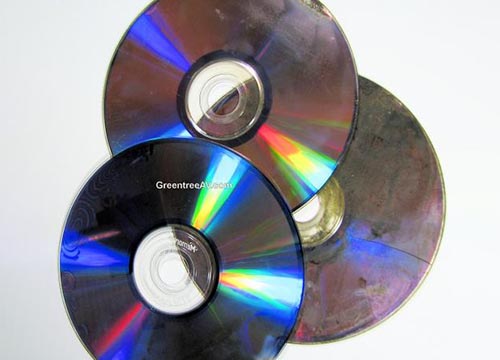 These DVDs were in a house fire and are burned around the edges and partially melted. We don't work magic, but some of the family video material was recovered. Some disks were a total loss.
Testimonials
Thank you for the discs!! You did an amazing job cleaning up the nasty contents and very weak audio on these DVDs and making new DVDs. Greatly appreciate all your hard work and expertise. Thank you and we will be sending more discs that will need to be cleaned up as well. Stay well.

Judy Wyoming WY 82801
Hello, the package arrived on Monday and all is fine. Thank you for the good work [on the water damaged 8mm tapes, PAL Betacam, and moldy video tape reel recovered to avi files on a hard drive]. We will be sending another water damaged fused 8mm tape. Sincerely,

Alex California CA 94541
Thanks for saving our Hi8 camcorder tape to mp4 file on our flash drive [tape was water damaged and was fused/stuck together]. It looks good, many thanks.

Larry Missouri
How it works:

1.

CONTACT US

with questions or to get an estimate.

2. Print our

SHIPPING LABEL

from the tab at the top of the web page.

3. Number your tapes/media, keep a list, and enclose titles and contact info.

4. Seal in plastic bags, pack well, use tracking, and save the number.

5. We confirm arrival, email findings after recorded, and bill using PayPal.

Paypal accepts credit cards - you do not need to be a member.

Prepay and checks accepted; make checks payable to "GreentreeAV".

6. Most orders: Postal Priority mail $9.50. Heavy or International: actual cost.

7. Order shipped after payment. Normal completion 4 weeks.